An innovative pilot system for pallet identification and verification using RFID technology has been in use at the newly opened METRO Innovation Center in Neuss-Norf, Germany, since July 7, 2004.
Visitors to the technological testing facility of Germany's giant METRO AG retail group can see one of the first RFID systems for automatic pallet labeling compliant to the EPC Global Standard.
The application is a joint project of three German companies: Waldemar Winckel GmbH & Co. KG, SRD Maschinenbau GmbH and PAXAR Deutschland GmbH, a branch of the US-based Paxar Corporation.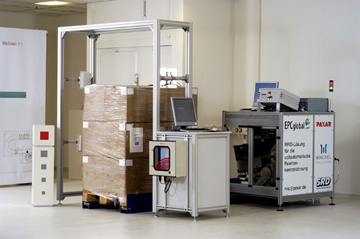 No technological innovation in product labeling has had such a major impact in recent years as the introduction of miniature radio transmitters and receivers to identify and track merchandise and parts in production. Radio Frequency Identification (RFID) will supplement conventional barcode technology, if not even replace it.
METRO AG Corporation as one of Germany's leading retail groups defines RFID specifications and demand profiles for their suppliers and has been planning the implementation of the new technology with the METRO Group RFID Innovation Center.
It was against this background that the group invited leading companies in RFID technology to set up implementation solutions suitable for practical application in the order processing division of their testing technological facility METRO Innovation Center located in the city of Neuss-Norf.
Waldemar Winckel GmbH & Co. KG, SRD Maschinenbau GmbH and PAXAR Deutschland GmbH presented an EPC Global Standard-compliant system developed in a joint program for innovative automatic pallet labeling and verification. Software from Winckel controls a 9855 RFID label printer from Paxar.
The printer writes and prints conventional visible data – human readable markings and barcodes – on the label. What makes the application innovative is the simultaneous "writing" of information onto a RFID chip integrated in the label, the "tag" via radio transmission by the printer. An automated labeling system from SRD controlled by a microcontroller directs a pneumatic dispenser arm to apply the finished label to the pallet.
By way of a conveyor, the pallet then passes through a RFID gate contributed by Winckel. There the RFID tag is read and processed. Powered by another Winckel software product, a monitor displays the data.
In a minimum amount of space, the system demonstrates the feasibility of what is so imperative in large-scale industrial goods flow control: All elements of the RFID application work together smoothly. And, just as important: The tag survives the mechanical application of the label undamaged and is always and absolutely readable.
The pilot system meets requirements demanded by METRO AG of their suppliers in the first stage of the introduction of RFID. In accordance with the specifications, this type of a system can be integrated in the suppliers' existing IT platforms. The smooth integration of pallet labeling and goods flow control with RFID Gate paves the way for further introduction of the RFID technology to the retail supply chain.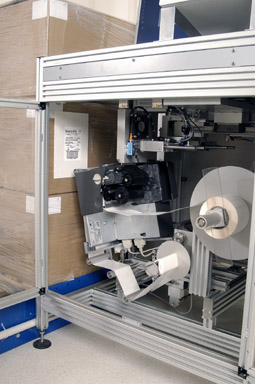 The three companies involved in the pilot system are capable of installing the fully automatic or semi-automatic labeling of pallets and cartons with RFID labels not only in display setups, but on an industrial scale. Beyond the limited demand profile as defined by METRO, the companies have far-reaching and advanced expertise in RFID technology in particular and in product labeling in general.
Waldemar Winckel GmbH & Co. KG in the German town of Bad Berleburg provides solutions for production monitoring, materials management, distribution, and EAS as well as brand protection and much more from a single source. Founded in 1861, the company supplies hardware, peripherals, and labels. Experienced specialists analyze application environments and develop practical solutions, including software integrations, preparation of performance specifications and system requirements, as well as specialized data processing concepts. Several major corporations in Germany and abroad rely on Winckel products and expertise. Winckel produces RFID labels and tabs in top quality on state-of-the-art machines.
SRD Maschinenbau GmbH in Enger has been a reliable and innovative partner for labeling and identification machines for over 20 years. The product range includes among other things semi-automatic and fully-automatic labeling machines for self-adhesive labels, labeling machines with integrated printer systems, conveying technology, facilities for product handling in in-feed and out-feed, sorters, as well as automation technology applying robotic systems. SRD also offers customized software for integrating and connecting their systems to existing data processing systems. In addition to their extensive standard program, SRD provides made-to-order solutions. SRD supplies numerous renowned corporations in Germany and abroad.